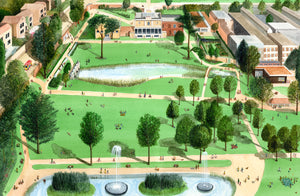 Walpole Park is situated in Ealing, west London, close to Ealing Broadway. 
The main feature on entering the park is Pitzhanger Manor, formerly the home of the architect Sir John Soane. It has fairly recently been refurbished, and houses an art gallery, as well as access to the manor itself. It is a popular venue for events such as weddings. It can be seen at the top centre of the print.
Other buildings within the park walls are the restaurant Soane's Kitchen, rose garden, cafe, and The Rickyard, a learning centre which also houses exhibitions. In the summer Walpole Park hosts the annual Beer festival, Jazz festival, Comedy festival, and Blues festival. Sadly of course these events did not go ahead this year, but we are hoping they'll be back next year.
The top right of the image overlooks the back of the famous Ealing Studios, where classic films such as the Ealing Comedies and Carry On films were shot. They are still in use today.
Other places of interest you can spot in this print are the ornamental bridge (designed by Sir John Soane), the pond, fountains, and ice-cream van, as well as various wildlife. If you don't know the park, it is well worth a visit. If you are familiar with it, then why not have a print on your wall for rainy days (or lockdown)?
Prints are available in two sizes, both printed on heavyweight 300gsm Hahnemuhle Fine Art paper. Each print is signed by the artist.