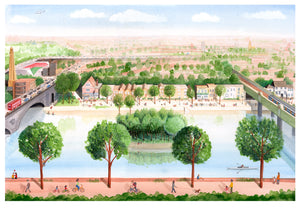 Strand-on-the-Green is a calm and picturesque footpath on the north side of the Thames stretching from near the Bull's Head pub almost to Kew Bridge.
In the summer it is especially popular due to the three pubs (The Bell and Crown, The City Barge, and the Bull's Head). Many decades ago, as a student, I worked in the City Barge and recall the landlord springing to action as the tide came in and we'd have to lock the watertight door facing the river as the water flooded the footpath and rose over the benches outside.
The painting features some of the south side of the river, where a path leads all the way to Chiswick Bridge where it joins side streets to Barnes, making it a direct cycling commute.
Other landmarks include Oliver's Island, a tree-covered island named after it allegedly served as a hideout for Oliver Cromwell. Myths arose via the pub landlords that there is a secret tunnel from the Bull's Head to the island. To the left we see Kew Bridge, beyond which is the tower of the Steam Museum and Brentford FC's recently built Community Stadium, also home to rugby club London Irish. Further back in the distance is Gunnersbury Park, the M4, and Chiswick High Road.
All prints are on 308gsm heavyweight Hahnemuhle Photo Rag, a beautiful fine art paper with a lovely texture. All are signed on the front and stamped on the back.