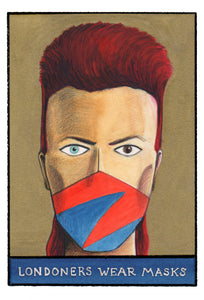 Part of a series of small, Covid-19 based prints, designed to project a positive message in our bid to deal with, and hopefully eradicate, the virus. The words are both a statement and a calling.
This one is of the iconic musician and creative chameleon David Bowie, who was born in Brixton, south London. His style was highly original and instantly recognisable so that even with a mask he is identifiable, down to his differently-coloured eyes. This illustration is a slight amalgamation of his looks, most notably his Ziggy Stardust persona which arguably started it all.
As with all prints, it is made using watercolour, goache, and graphite, although this one has the added allure of a background painted in Japanese gold watercolour.

The print is 13.5cm x 20cm in size (fits an A5 frame), printed on beautiful Hahnemuhle Photo Rag paper. It is 308gsm and has a lovely texture as well as enabling the colours to pop out. All prints are archival and signed by the artist.