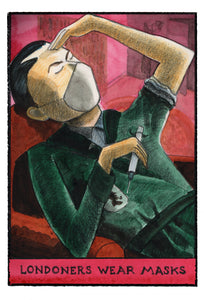 Part of a series of small, Covid-19 based prints, designed to project a positive message in our bid to deal with, and hopefully eradicate, the virus. The words are both a statement and a calling.
This one features one of the most famous detectives in the world, Sherlock Holmes, at his home in 221b Baker Street. It not only promotes the wearing of a mask to help stop the spread of the virus, but also contains a sign of optimism as vaccinations are under way. Those of you familiar with the character will be aware that he has no fear of needles.
The print is 13.5cm x 20cm in size (fits an A5 frame), printed on beautiful Hahnemuhle Photo Rag paper. It is 308gsm and has a lovely texture as well as enabling the colours to pop out. All prints are archival and signed by the artist.