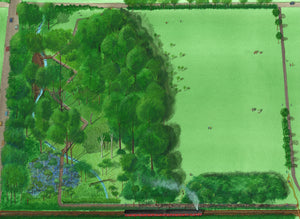 Long Wood is for many a hidden, undiscovered part of Ealing. Nestling between Warren Farm and the M4, it is a wonderful woodland of zig-zagged pathways, wild undergrowth, and home-made rope swings over the winding stream. 
For many families, including myself, this nature reserve was a welcome haven for exercise and fresh air during the worst days of the 2020 lockdown. Since then it has been a destination for local cubs, family walks, and a shortcut for getting away from it all. My painting includes the bluebell wood, the raised field of wild horses (including a new foal, born in 2020), and the old steam train which no longer runs along this track, but did make a nostalgic appearance only a few years ago. 
Prints are available in two sizes, both on heavyweight 308gsm Hahnemuhle Fine Art paper. Each print is signed by the artist and stamped on the back.