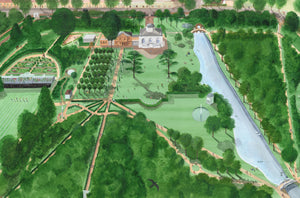 Chiswick Park, or more commonly known as Chiswick House and Gardens, is situated alongside the A4, a short walk from Chiswick High Road (before the Great West Road was constructed, you could walk down Dukes Avenue which stretched from the High Road all the way to Chiswick House).
Chiswick House was designed in the Palladian style, with many other features in the gardens, such as the columns, statues and sphinxes in the same style. There is a beautifully designed garden in front of the glass conservatory, a waterfall, an Ionic temple by the lake, and of course the villa itself, known as Chiswick House. 

Personally I remember it fondly from my childhood, walking to school and back, climbing the ancient trees in front of the house and running and hiding in the overgrown wooded areas. My school also had its annual sports day in the walled garden behind the conservatory. The cafe was rebuilt as part of the restoration a couple of decades ago, and the park hosts events in the summer and winter, as well as games of cricket on the cricket pitch, and regular markets. It is well-worth visiting in any season, and is a great place for a family walk, or simply for some peace and tranquility. I visit it as often as I can, and enjoyed being there regularly while sketching and planning this picture.

Prints are available in two sizes, both printed on heavyweight 308gsm Hahnemuhle Fine Art paper. Each print is signed by the artist and stamped on the back.