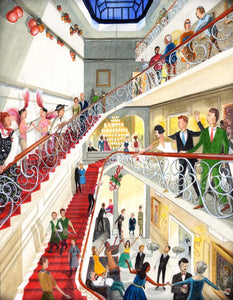 This is a painted illustration of Ognisko (The Polish Hearth Club) in Kensington which is celebrating its 80th Anniversary this year in 2020. The picture is of the grand staircase inside, and contains people and memories from the last eight decades, some real, some fictional composites based on real events.
My earliest memories are of being taken backstage after plays which took place on the first floor, where Ognisko housed a theatre. My late grandfather, Witold Schejbal performed in many of these. I have included him in the picture. He's seated at the top of the first staircase, wearing glasses and looking on at my sister Natalia (in a blue dress) and her husband Mark who are standing on the stairs.
My grandmother, Marzena Schejbal, worked in the Ognisko restaurant shortly after she came to London after the war (she was first a nanny to a Russian Prince in Kensington). I've painted her coming in through the entrance in the blue AK (Polish Home Army) 'uniform' she often wears today when attending pretty much every Polish event going.
My parents Andrzej and Danusia are on the second staircase dressed as they did at my wedding. They had their own wedding reception in Ognisko in 1974 and two of their friends, Zbyszek Szydło and Włodek Lesiecki are in traditional costume as they were on that day (with swords), walking on the staircase below.
In front of my parents is my son Romek, dressed in his Góral costume (traditional dress of people from the mountains in southern Poland) which he wore at the 'Kolorowy Folklor' event in POSK earlier this year. It was a celebration of song and dance performed by second, third, and fourth generation Poles from London. Behind them, are my two other sons Max and Felix. They are both looking on at the couple who have just got married. They are me and my wife Angela, and we had our wedding reception in Ognisko in 2001. Angela threw her bouquet over the bannister just like this.
The event on the second floor is based on the opening of my exhibition and talk in the 'Salonik' in 2018, where I also premiered a short film. The talk was about my creative inspiration, Polish background, and links with Ognisko. My boys helped me set up the show. Please see my personal Instagram page (Dominik Klimowski) for details.
The Polish Club is welcome to all. It has a great restaurant, bar, grand and intimate rooms for hire. It's literally round the corner from the V&A museum, Science Museum, Natural History Museum, Hyde Park, and Knightsbridge. Perfect for somewhere to meet or unwind.
For those, like me, whose DNA includes Polish culture in London, this picture has something for everyone, to relive memories of youth and assorted family histories.
Printed on heavyweight 308gsm Hahnemühle fine art paper and signed by the artist.