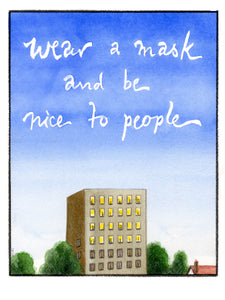 Part of a series of small, Covid-19 based prints, designed to project a positive message in our bid to deal with, and hopefully eradicate, the virus.
This one is of a building in London, with a positive, happy message written in the sky. The message is an homage to the famous 'Work Hard and Be Nice To People' poster by acclaimed designer and printmaker Anthony Burrill.
The print is 15cm x 21cm in size (A5), printed on beautiful Hahnemuhle Photo Rag paper. It is 308gsm and has a lovely texture as well as enabling the colours to pop out. All prints are archival and signed by the artist.