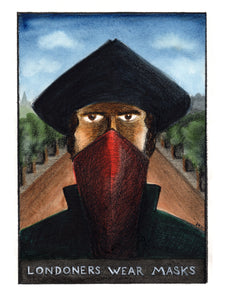 Part of a series of small, Covid-19 based prints, designed to project a positive message in our bid to deal with, and hopefully eradicate, the virus.
This one features Dick Turpin, standing in front of the A4 to London. Of course he is not an ideal role-model, so if you prefer you can imagine that other famous Londoner, Adam Ant. The words are both a statement and a calling.
The print is 13.5cm x 20cm in size (fits an A5 frame), printed on beautiful Hahnemuhle Photo Rag paper. It is 308gsm and has a lovely texture as well as enabling the colours to pop out. All prints are archival and signed by the artist.